We know from our own experience and knowledge as specialist team work how to pay attention to every possible detail and do our best to make your stay unforgettable one...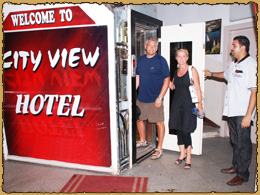 We believe that a trip to Egypt can enhance and change your life.
With the suitable talents of our team work and the very special difference you feel during your stay with us you will feel that you are at home...
We invite you to experience the cozy and unique service offers by City View Hotel.
On behalf of City View Hotel management and the entire Staff, I'd like to introduce you to see, feel, and try our comfortable and elegant service at City View Hotel.
One day soon, I hope you will discover the Essence of City View.
Tiger Lotfy
President