Contact Information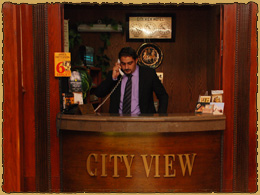 Address:
1 El-Bostan St. Al-Tahrir Sq., Cairo - Egypt.
Telephone:
(+2) 02 2773 5980
Telfax:
(+2) 02 2773 5981
Cell Phone:
(+2) 012 3431 258
E-Mail:
info@cityview-hotel.com
adel@cityview-hotel.com
City view hotel is pleased to offer online access to our world-class Concierge Services. If you would like us to make arrangements on your behalf prior to your arrival or if you have any comments or questions, please complete and submit the contact form. A member of our concierge staff will contact you within 24 hours of receiving your request.