The Restaurant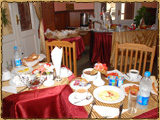 At Ali Baba Restaurant with its unforgettable view on the Egyptian Museum, you can have a delicious meal of your choice.
Ali Baba oriental restaurant reflects the legendary atmosphere of old Cairo where you can enjoy delicious meals and snacks.
Ali Baba restaurant offers wide variety of delicious meals and also local specialties, prepared by our Chef with the freshest ingredients and with meticulous attention detail and the choice is yours.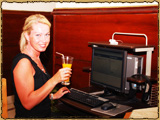 Enjoy a variety of a delicious selection of food in the perfect thrilling atmosphere at Ali Baba Restaurant with a unique panorama view of the magnificent Egyptian Museum and you can also enjoy a selection of oriental drinks.
The Egyptian Museum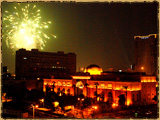 You cannot miss the marvelous Egyptian Museum , founded in 1900, contains one of the world's greatest collections of Egyptian Antiquities. About 10,000 pieces are on display and hundreds of thousands of others are in stores.
The Museum also contains a magnificent collection of sculpture and of objects related to Ancient Egyptian everyday life.