City View Hotel combines ancient surroundings and unmatched personal service with an address that puts the best sights in the city at your door, we also feature all amenities which will make your stay with us even more comfortable.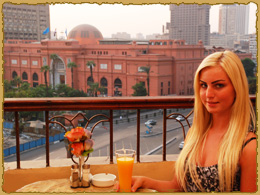 The hotel provides everybody with the opportunity to take advantage of this wonderful and exciting destination, so we invite you to come and experience comfort and tranquility at City View Hotel.
City View Hotel is centrally located in Cairo on the northern end of Tahrir Square. The National Museum, Restaurants, Banks, Embassies, and Metro are all within walking distance.
For the comfort of our guests, each of our 20 rooms includes individual air conditioning units, satellite T.V., mini bar, safety deposit box, full bathroom, wireless internet access, and private balcony. All rooms are well furnished with Egyptian ornaments and artwork, many enjoy a breathtaking view of the magnificent Egyptian Museum.
A complimentary breakfast is served daily which includes fresh fruits, vegetables, cheeses, breads, and eggs cooked to order. With a little advance notice upon your arrival, trips to destinations you chose at the schedule you chose, can be arranged. Laundry service is also provided upon request.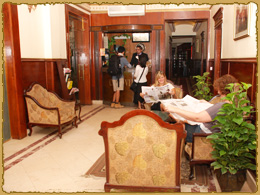 The City View hotel has received over 100 recent reviews on sites like Trip Advisor from people all over the world pleased with our outstanding service. We sincerely hope you will give us the opportunity to show you the very definition of hospitality.
A cruise on the Nile, a visit to the marvelous Egyptian Museum, a tour of the Citadel of old Cairo and easily explore the great pyramids of Giza, all of these delights are on your doorstep when you stay at City View Hotel.
City View Hotel is located in the heart of the City within walking distance to the marvelous Egyptian Museum and the hotel offers its hospitality to both business and vacationers Travelers for our facilities and services have been designed to meet the expectations of our discerning guest.
City View Hotel is located in the shadow of the magnificent Egyptian Museum and it offers you a complete range of services that will help make your stay a pleasant and memorable one.
At City View Hotel you can be reassured of our full attention from the moment you check in until your departure time.